Medical Decision-Making Policies by State
Medical Decision-Making Policies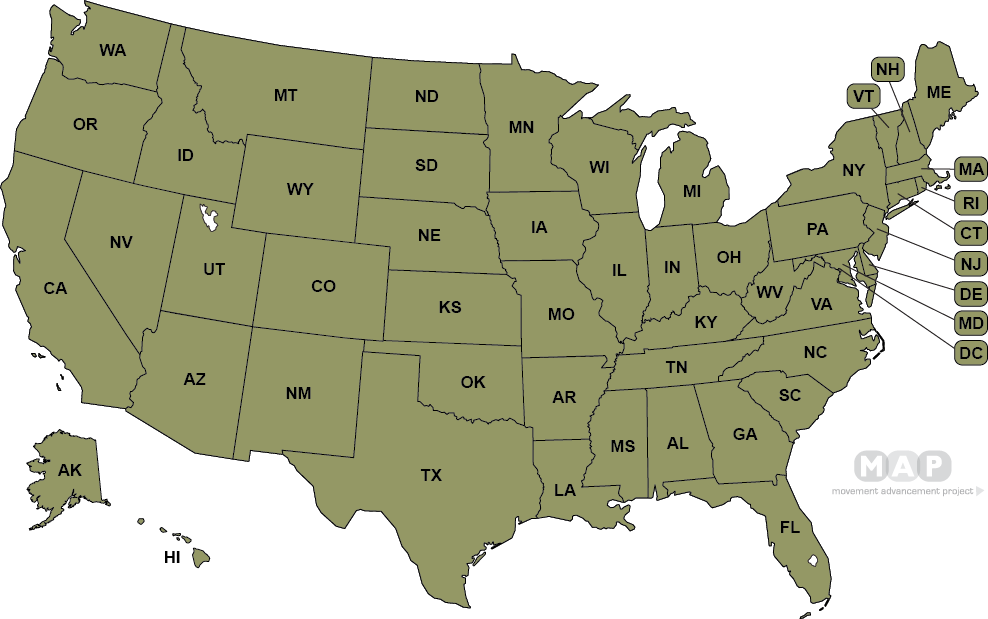 | | |
| --- | --- |
| | Law explicitly gives same-sex couples equal or substantially equivalent standing to other family members (35 states + D.C.) |
| | Law offers limited recognition of same-sex partners through broad language (5 states) |
| | Same-sex couples treated as legal strangers (10 states) |
NOTE:
In the absence of powers of attorney or a medical directive, states may designate the person who can make medical decisions for a patient who is incapacitated. May require legally recognized relationship. For additional information, contact
Family Equality Council
,
Human Rights Campaign
, or
American Civil Liberties Union (ACLU)
. Laws' recognition of same-sex couples can impact bisexual and transgender people in same-sex relationships.
Percent of LGBT Population Covered by Laws
71% of LGBT population lives in states with inclusive medical-decision making laws
4% of LGBT population lives in states with limited recognition of same-sex couples
24% of LGBT population lives in states where same-sex couples are treated like legal strangers
Positive Law

No law



State
Law Inclusive of Same-Sex Couples
Limited Recognition
Legal Strangers
Total
35 states + D.C.
5 states
10 states
Alabama
Alaska
Arizona
Arkansas
California
Colorado
Connecticut
Delaware
District of Columbia
Florida
Georgia
Hawaii
Idaho
Illinois
Indiana
Iowa
Kansas
Kentucky
Louisiana
Maine
Maryland
Massachusetts
Michigan
Minnesota
Mississippi
Missouri
Montana
Nebraska
Nevada
New Hampshire
New Jersey
New Mexico
New York
North Carolina
North Dakota
Ohio
Oklahoma
Oregon
Pennsylvania
Rhode Island
South Carolina
South Dakota
Tennessee
Texas
Utah
Vermont
Virginia
Washington
West Virginia
Wisconsin
Wyoming
Use This Map
Choose a State
Demographics
Print This Page
Learn More Read The Allys Guide
Powered by MAP
Data current as of 05/20/2015