Hate Crime Laws
Hate Crime Laws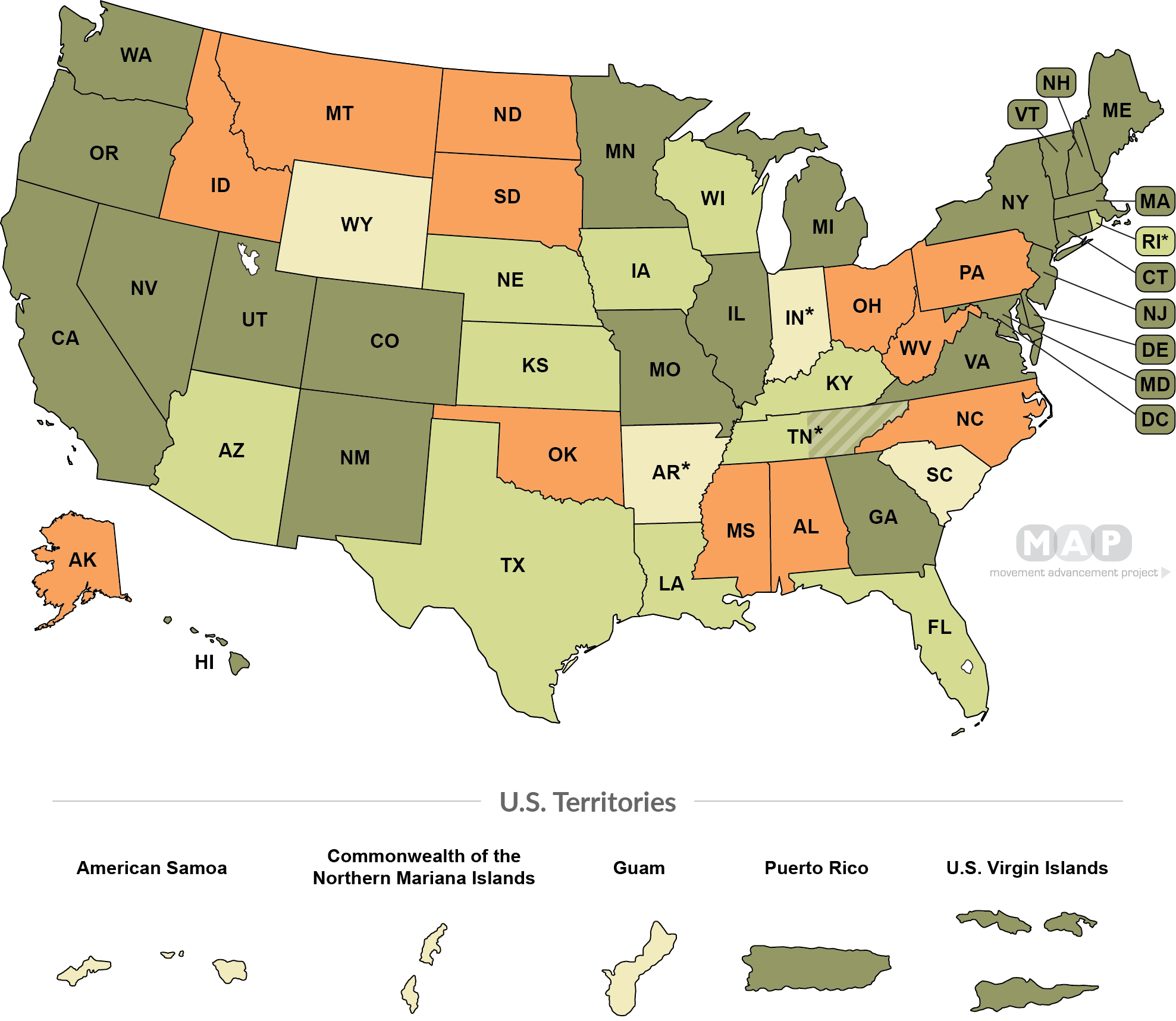 | | |
| --- | --- |
| | Law covers sexual orientation and gender identity (15 states + D.C.) |
| | Law covers only sexual orientation (15 states) |
| | Existing hate crime law does not cover sexual orientation or gender identity (14 states) |
| | No hate crime law (6 states) |
NOTE:
The Matthew Shepard and James Byrd, Jr. Hate Crimes Prevention Act is a federal law that amended federal hate crime law to include gender, sexual orientation, gender identity, and disability. Several states have hate crime laws that require data collection for sexual orientation or gender identity and expression, but do not impose additional penalties: Indiana (sexual orientation), Michigan (sexual orientation) and Rhode Island (gender identity or expression). For additional information, contact the
Human Rights Campaign
, the
National Gay & Lesbian Task Force
, the
National Center for Transgender Equality
, or the
Equality Federation
.
Percent of LGBT Population Covered by Laws
35% of LGBT population lives in states that have hate crime laws covering sexual orientation and gender identity
71% of LGBT population lives in states that have hate crime laws covering sexual orientation
18% of LGBT population lives in states with laws that do not cover sexual orientation or gender identity
11% of LGBT population lives in states with no hate crime laws
Law covers sexual orientation

Law covers sexual orientation and gender identity/expression




State
Hate Crime Law
Year Passed
Alabama
Alaska
Arizona
2003
Arkansas
California
1999
Colorado
2005
Connecticut
2004
Delaware
2001/2013
District of Columbia
1989
Florida
2001
Georgia
Hawaii
2003
Idaho
Illinois
2001
Indiana
Iowa
2002
Kansas
2002
Kentucky
2001
Louisiana
2002
Maine
2001
Maryland
2005
Massachusetts
2002 (Sexual Orientation); 2011 (Gender Identity/Expression)
Michigan
Minnesota
1993
Mississippi
Missouri
1999
Montana
Nebraska
2002
Nevada
2001 (Sexual Orientation); 2013 (Gender Identity/Expression)
New Hampshire
2002
New Jersey
2002 (Sexual Orientation); 2008 (Gender Identity/Expression)
New Mexico
2003
New York
2002
North Carolina
North Dakota
Ohio
Oklahoma
Oregon
2001 (Sexual Orientation); 2008 (Gender Identity/Expression)
Pennsylvania
Rhode Island
2001
South Carolina
South Dakota
Tennessee
2001
Texas
2002
Utah
Vermont
2001
Virginia
Washington
1993 (Sexual Orientation); 2009 (Gender Identity/Expression)
West Virginia
Wisconsin
2002
Wyoming
Use This Map
Choose a State
Demographics
Print This Page
Learn More Read The Allys Guide
Powered by MAP
Data current as of 05/20/2015