MAP's mission
is to provide independent and rigorous research, insight, and analysis that help speed full equality for LGBT people.
About MAP
Founded in 2006, the Movement Advancement Project is an independent think tank that provides rigorous research, insight and analysis that help speed equality for lesbian, gay, bisexual and transgender (LGBT) people. MAP's work is focused on three primary areas:
Our Audiences
MAP's work helps educate and persuade public audiences (such as policymakers, allied organizations and funders, media and the American public) and helps support LGBT movement audiences (including LGBT organizations and advocates, and LGBT funders).
Public Audiences:

by articulating the need for change and outlining solutions in a comprehensive and compelling way, MAP enables these audiences to better understand the need for change, become motivated to act, and take effective action:

Policymakers

can better understand the challenges facing LGBT Americans, feel more compelled to take action, and more effectively advocate for solutions that best achieve equality.

Allied Organizations & Funders

can gain a better sense of how LGBT issues intersect with their existing work and funding, feel more compelled to act in favor of LGBT equality, and have a better sense of how to take effective action.

Media

can better understand the issues facing LGBT Americans, feel more compelled to cover LGBT issues in ways that build public understanding, and better articulate what needs to happen to achieve equality.

The American Public

can better understand the challenges facing LGBT Americans, become more supportive of LGBT people and issues, and take greater action to achieve equality and end social stigma.

LGBT Movement Audiences:

MAP works collaboratively with LGBT organizations, advocates and funders, providing them with tools, research and resources to help strengthen their efforts. MAP also provides information and analysis about the health and capacity of the LGBT movement, helping these audiences more strategically apply and coordinate resources for maximum impact:

LGBT Organizations & Advocates

can access tools and resources that make these groups more effective, as well as benefit from sophisticated analysis that can help strengthen organizations and increase coordination.

LGBT Funders

can access analysis and gain insight on how to better apply and coordinate existing resources.
Our Logic Model
MAP believes we can help speed equality for LGBT people through the process summarized in our Logic Model diagram below: by educating and influencing external change agents, such as policymakers and media, while simultaneously strengthening the LGBT movement.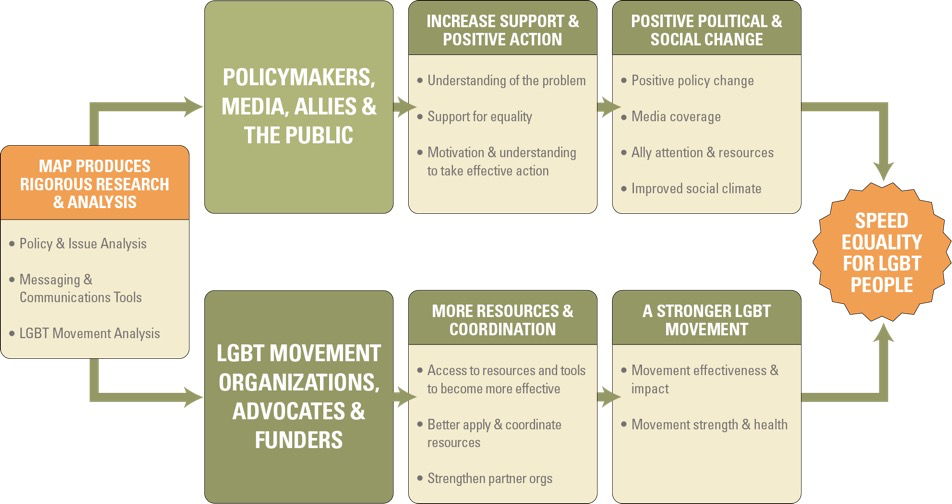 Our 990s