Safe Schools Laws
Safe Schools Laws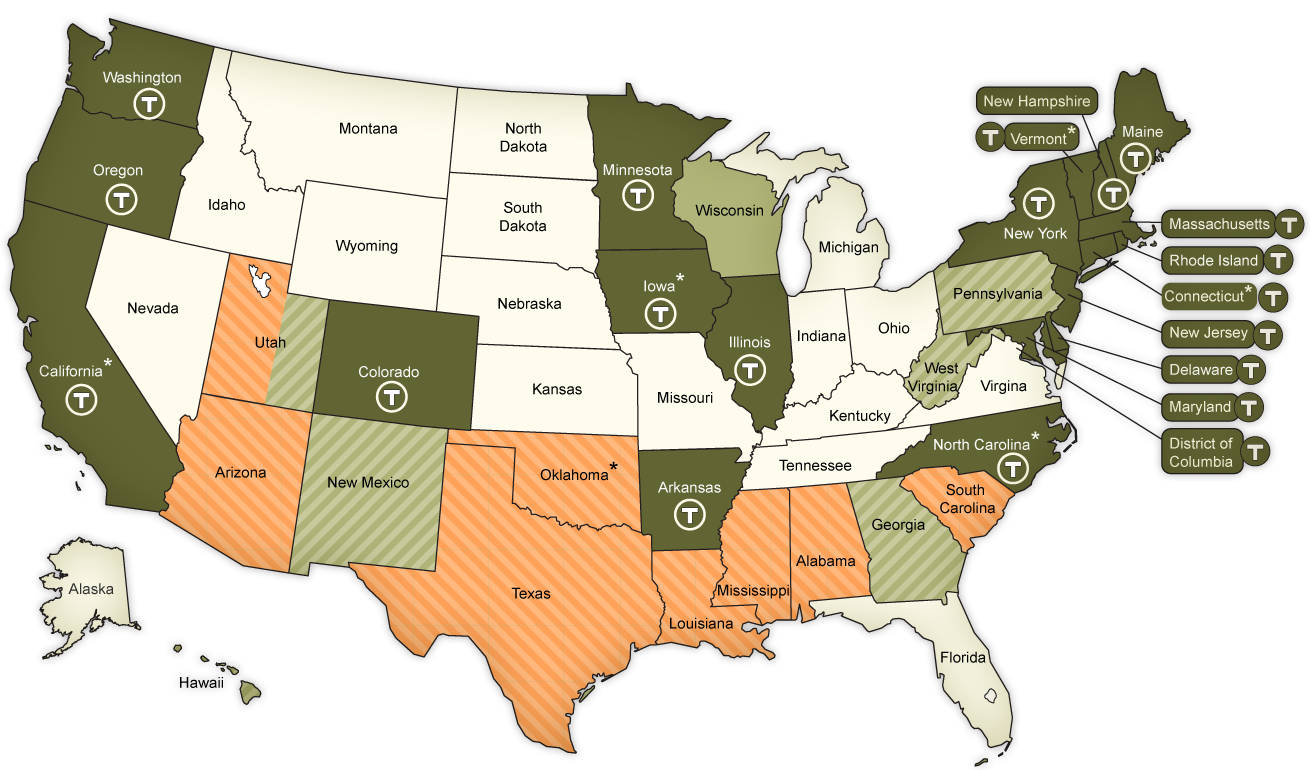 | | |
| --- | --- |
| | Law covers sexual orientation and gender identity (19 states + D.C.) |
| | Law covers only sexual orientation (1 state) |
| | School regulation or teacher code prohibits discrimination based on sexual orientation (5 states) |
| | Anti-LGB schools law or regulation (8 states) |
| | No law protecting LGBT students (18 states) |
| | * Law also prohibits discrimination based on a student's association with a person with a protected characteristic, such as a parent's sexual orientation or family status (6 states) |
NOTE:
There are two types of safe schools laws: non-discrimination laws and anti-bullying laws. States with either kind of law are reflected on this map. While some states, districts and schools have non-enumerated safe schools laws, research by the
Gay, Lesbian and Straight Education Network (GLSEN)
finds that such laws have no impact on rates of anti-LGBT bullying. Therefore, states with such laws are not included on this map. Some states may interpret "gender" to include gender identity/expression. Such states are not reflected on this map.
Percent of LGBT Population Covered by Laws
48% of LGBT population lives in states that have safe school laws covering sexual orientation and gender identity
49% of LGBT population lives in states with laws prohibiting discrimination based only on sexual orientation
9% of LGBT population lives in states that school regulation or teacher code prohibits discrimination based on sexual orientation
16% of LGBT population lives in states with anti-LGB schools law or regulation
42% of LGBT population lives in states have no law protecting LGBT students
Law covers sexual orientation Indicates an anti-LGB law

Law covers sexual orientation and gender identity/expression



State
Safe Schools Law
Year Passed
Alabama
Alaska
Arizona
Arkansas
2011
California
2002
Colorado
2008
Connecticut
2001 (Sexual Orientation); 2011 (Gender Identity/Expression)
Delaware
2012
District of Columbia
2001
Florida
Georgia
Hawaii
Idaho
Illinois
2010
Indiana
Iowa
2007
Kansas
Kentucky
Louisiana
Maine
2005
Maryland
2008
Massachusetts
1993 (Sexual Orientation); 2011 (Gender Identity/Expression)
Michigan
Minnesota
1993
Mississippi
Missouri
Montana
Nebraska
Nevada
New Hampshire
2010
New Jersey
2002
New Mexico
New York
2010
North Carolina
2009
North Dakota
Ohio
Oklahoma
Oregon
2007
Pennsylvania
Rhode Island
2011
South Carolina
South Dakota
Tennessee
Texas
Utah
Vermont
2001 (Sexual Orientation); 2007 (Gender Identity/Expression)
Virginia
Washington
2002 (Sexual Orientation); 2009 (Gender Identity/Expression)
West Virginia
Wisconsin
2001
Wyoming
Choose a State
Demographics
Print This Page
Use This Map
Learn More Read The Allys Guide
Powered by MAP
Data current as of 12/06/2013