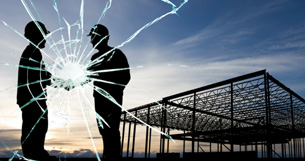 NOTE: To download the full report A Broken Bargain: Discrimination, Fewer Benefits and More Taxes for LGBT Workers, scroll below or click on the link in the title above. Click here for the news release.
U.S. workers who are lesbian, gay, bisexual and transgender (LGBT) number an estimated 5.4 million. Yet LGBT workers continue to face inequality, unfairness, harassment and discrimination in the workplace, and they often have nowhere to turn for help.
LGBT employees who work just as hard as their non-LGBT counterparts face multiple barriers to fair and equal treatment—barriers that make it harder for LGBT workers to find and keep good jobs; and barriers that prevent LGBT workers from accessing the same job-related benefits as their non-LGBT coworkers, putting LGBT workers and their families at risk.
No federal law provides explicit legal protections for LGBT workers, and fewer than half of states have laws that protect workers based on sexual orientation and gender identity/expression. But most Americans are not aware of the lack of protections for LGBT workers. In fact, an overwhelming majority of Americans (87%) mistakenly believe that it is already illegal under federal law to fire someone simply for being gay.
Additionally, when an LGBT worker does the same job as a non-LGBT coworker, a series of federal and state laws deny the LGBT worker equal access to worker and family benefits—as well as family tax relief. This can create an untenable situation for LGBT workers and their families--as well as for employers. Even when a company's leaders believe that fair and equal treatment in the workplace is fundamental to their values and business success, the law often forces employers to treat LGBT workers differently.
These and other injustices negatively impact both workers and employers. Action is needed by federal, state and local governments (as well as by employers) to reduce and eliminate inequities for LGBT workers and their families—solutions that would benefit the entire American workforce.