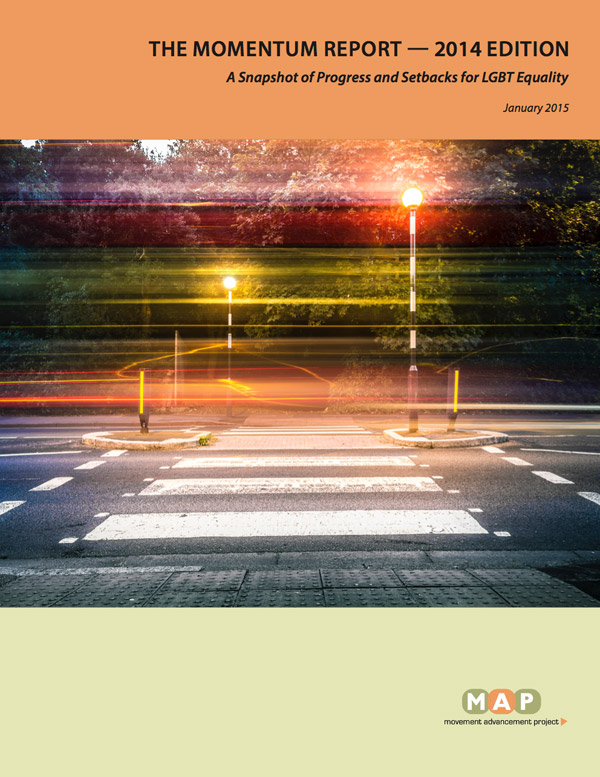 The Bottom Line
MAP's Momentum Report tracks indicators of the LGBT movement's success in the pursuit of legal and social equality for LGBT Americans. This special edition examines some of the highlights and lowlights in the journey towards LGBT equality over the past year. The report examines several areas of protection for LGBT people: marriage, health, transgender equality, and other progress. It also provides an overview of some of the work left to be done. This year, the report also contains a timeline of some of the important events that occurred throughout the year.
For a more comprehensive timeline of the events in LGBT equality in 2014, click here.
Download This Report
2014 Momentum Report (Published January 2015)Download

2014 Interactive Timeline of Events in LGBT Equality

Download

2014 Momentum Report (Published January 2014)Download
Abstract
The special 2014 edition of MAP's Momentum Report, produced biennially since 2007, offers a snapshot of the lesbian, gay, bisexual, and transgender (LGBT) movement's stunning victories over the past year, and the widespread inequality LGBT Americans continue to face.
The unprecedented progress on marriage has led to a widespread impression that nationwide equality for LGBT people is imminent. A closer look at the full range of LGBT rights at all levels of American society, however, reveals a different picture. With the freedom to marry progressing so swiftly through the courts, same-sex couples can now marry in a number of states that otherwise have almost no legal equality for LGBT people. What this means is that a worker can get married over the weekend, then be fired on Monday because of his or her sexual orientation. Meanwhile, in over 30 states, a person can be denied service in a restaurant or denied housing because they are transgender.
Note that special edition of the Momentum Report is not an exhaustive detailing of the progress made at every level in every area of life—nor the policy and societal changes needed to achieve full equality.