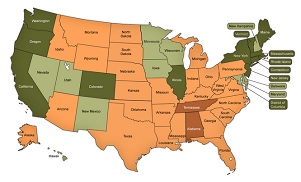 These Policy Spotlight Reports are an ongoing series that provides in-depth analyses of the laws and policies tracked on the Equality Maps.
Each report examines one set of laws and policies impacting the lives of LGBT people in America.Like other Americans, LGBT people simply want a fair chance to earn a living, be healthy and safe in their communities, and take care of the ones they love. Unfortunately, LGBT Americans and their families face a significant barrier to achieving these goals. That barrier is a lack of equality under the law.
As a result of the uneven and uncertain progress for LGBT equality, LGBT people in America face an almost incomprehensible patchwork of laws. An LGBT individual or family may have a high level of legal equality in one state, while their LGBT counterparts in a neighboring state face only hostile or negative laws.