Are you lesbian, gay, bisexual or transgender (LGBT) and a member of the American workforce?

We want to hear it all - the good, the bad and the ugly. Adding your voice to this project will help advance policies to make workplaces more inclusive, and help raise the profile of LGBT workplace issues in the media and across the nation. With your permission, one use for your stories may be in our upcoming report about LGBT Workers in the American Workforce. Or, if you are willing, we might ask you to speak with the media (and we would provide training to help you do so effectively). But, even if you wish to remain anonymous, we still want to hear from you.


How has being LGBT made it harder for you to find and keep a good job or support yourself and your family?
Were you nervous about coming out at work, but then your coworkers were supportive?  Or, are you closeted and living in fear of being fired? How does this affect other areas of your life?
Have you tried, unsuccessfully, to get your employer to offer inclusive healthcare, retirement or family leave benefits? Or, if you are able to get family benefits, how does this impact you financially?
What impact, if any, has being treated unfairly at work had on you and your family?
Have you lost a job because you are LGBT? If so, what steps have you had to take to make ends meet? How long were you unemployed?
On the flip side, tell us about any really great workplace experiences.
Have you felt safe and welcomed by your co-workers and company leaders?
Have you been in a workplace where you were able to be open and authentic?
Do you work for an employer that goes above-and-beyond to make you, and other LGBT employees, feel valued for the diversity that you bring?
Do you have other stories – either positive or negative – about your experiences in the workplace as an LGBT worker? We need to hear them.

Share your workplace stories now!
About the Report
The Movement Advancement Project (MAP), the Human Rights Campaign (HRC) and the Center for American Progress (CAP) are co-authoring a policy report on LGBT Workers in the American Workforce, which is currently slated to launch in Spring of 2013.  It will provide an overview of the American workforce and the LGBT workforce in America, and then look at how workplace challenges make it difficult for LGBT workers to provide for themselves and their families. The report will also highlight how these inequities harm not just LGBT workers, but also their co-workers and employers. The report will also focus on successful employer-based strategies for creating diverse and inclusive workplaces to improve their businesses' bottom lines and strengthen America's global competitiveness.  Finally, the report will offer specific recommendations for reducing and eliminating inequities for LGBT workers and their families – recommendations that benefit the entire American workforce.
Report Co-Authors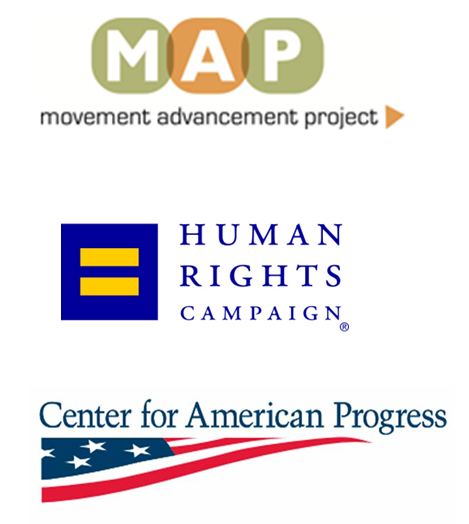 Report Partners