Employment Non-Discrimination Laws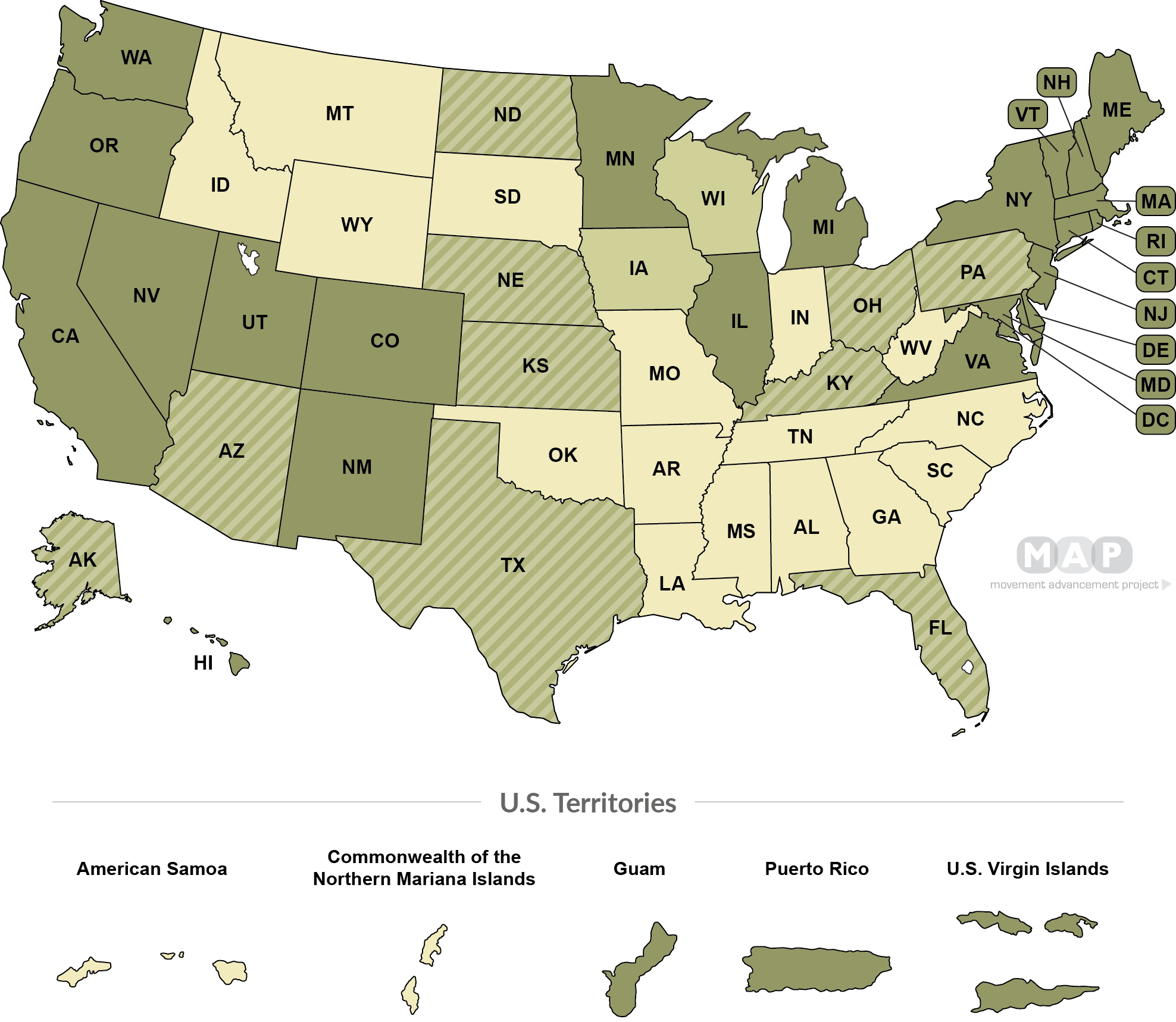 | | |
| --- | --- |
| | Employment non-discrimination law covers sexual orientation and gender identity (19 states + D.C.) |
| | Employment non-discrimination law covers only sexual orientation, but federal law prohibits discrimination against transgender and gender non-conforming people (see note) (3 states) |
| | No employment non-discrimination law covering sexual orientation or gender identity, but federal law prohibits discrimination against transgender and gender non-conforming people (see note) (28 states) |
NOTE:
A 2012 ruling by the federal Equal Employment Opportunity Commission extends Title VII's prohibition on sex discrimination to prohibit discrimination against transgender and gender non-conforming people. For additional information, contact the
Human Rights Campaign
, the
National Gay & Lesbian Task Force
, the
National Center for Transgender Equality
, or the
Equality Federation
. This map reflects states that have statewide statutes banning discrimination in private employment. Many states have executive orders or laws that protect all public employees, and many large cities and other localities have ordinances, executive orders, or personnel policies that protect local employees and some employees of local businesses. These laws, regulations and executive orders are not reflected on this map. Some states may interpret "gender" to include gender identity/expression. Such states are not reflected on this map.
Percent of LGBT Population Covered by Laws
40% of LGBT population lives in states prohibiting employment discrimination based on sexual orientation and gender identity
48% of LGBT population lives in states prohibiting employment discrimination based on sexual orientation
52% of LGBT population lives in states that do not prohibit employment discrimination based on sexual orientation or gender identity
Use This Map
Choose a State
Demographics
Print This Page
Learn More Read The Allys Guide
Powered by MAP
Data current as of 04/16/2015