Conversion "therapy" laws prohibit licensed mental health practitioners from subjecting LGBTQ minors to harmful conversion "therapy" practices that attempt to change their sexual orientation or gender identity. These laws do not restrict the practice among religious providers. For an in-depth analysis of these laws, please read our
LGBT Policy Spotlight Report: Conversion Therapy Bans
. For additional information, please contact the
National Center for Lesbian Rights
or
The Trevor Project
.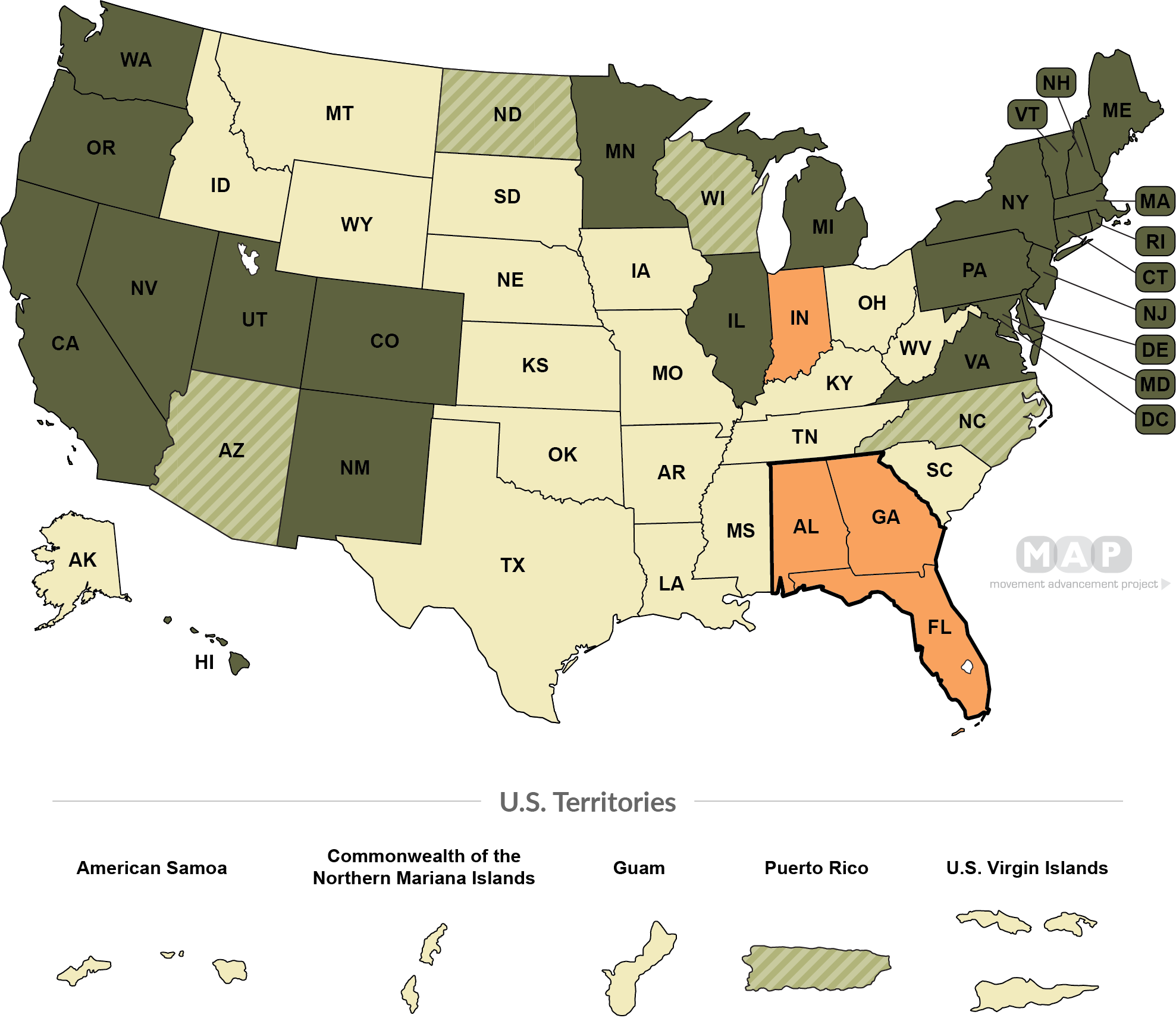 State law bans conversion therapy for minors

(

22 states + D.C.

)

State partially bans conversion therapy for minors

(

5 states, 1 territory

)

State law prohibits local-level bans on conversion therapy

(

1 state

)

State is in federal judicial circuit with a preliminary injunction currently preventing enforcement of conversion therapy bans

(

3 states

)

No state law or policy

(

19 states, 4 territories

)
*NOTE: In November 2020, the
11th Circuit Court of Appeals issued a ruling
preventing the enforcement of conversion "therapy" bans in that circuit (Alabama, Florida, Georgia). This map will be updated as that case continues.
*NOTE: States with green stripes are those that have taken state-level action to partially restrict the practice of conversion "therapy," though these states do not fully ban the practice. See the "Citations & More Information" beneath the map legend for additional information about every state.

Recommended citation:
Movement Advancement Project. "Equality Maps: Conversion Therapy Laws."
https://www.lgbtmap.org/equality-maps/conversion_therapy
. Accessed 12/09/2023.
---
Percent of LGBTQ Youth Covered by Laws
*Note: These percentages reflect estimates of the LGBTQ youth (ages 13-17) population living in the 50 states and the District of Columbia. Estimates of LGBTQ youth in the U.S. territories or under age 13 are not available, and so cannot be reflected here. Population estimates are from The Williams Institute.
47 % of LGBTQ youth (ages 13-17) live in states that ban conversion therapy for minors
11 % of LGBTQ youth (ages 13-17) live in states that partially bans conversion therapy for minors
2 % of LGBTQ youth (ages 13-17) live in states that prohibit local-level bans on conversion therapy
11 % of LGBTQ youth (ages 13-17) live in states in federal judicial circuit with a preliminary injunction currently preventing enforcement of conversion therapy bans
28 % of LGBTQ youth (ages 13-17) live in states with no state laws or policies about conversion therapy