MAP is an independent, nonprofit think tank
. We work to create a thriving, inclusive, and equitable America where all people have a fair chance to pursue health and happiness, earn a living, take care of the ones they love, be safe in their communities, and participate in civic life.
About MAP
Founded in 2006, the Movement Advancement Project (MAP) is an independent, nonprofit think tank that provides rigorous research, insight, and communications that help speed equality and opportunity for all.
MAP believes that to transform America, we need to change hearts and minds. This means people need to better understand the critical issues our country faces—and also better understand each other. We also believe we are stronger when we work together. MAP's extraordinary impact comes from the way we fuse communications, policy and collaboration to advance equality and opportunity for all. We:
Advance the conversation. So often in America, we're not actually having a conversation, rather it's two sides talking past each other. We believe that to effectively reach and persuade people, we first have to understand them. How do they think? What are their hopes and fears? What inspires them? MAP conducts groundbreaking research to deeply understand our audiences and then develops transformative messages and communications based on that understanding. Our

public education campaigns, multimedia content, ads, graphics and media outreach

are designed to shift people's thinking and drive action. From innovative videos to messaging guidance and training, MAP works to advance the conversation.


Advance policy change. It's easy to publish reports and graphics. It's hard to publish reports and graphics that people read—and that actually shift hearts and minds. We infuse our deep understanding of our audience throughout our policy work. We don't write long, academic reports. We create graphics and narratives that are easy-to-understand. We design our narratives and carefully tailor our language to more effectively change hearts and minds. On issues from

nondiscrimination to criminal justice to voting to health care

, MAP frames problems and policy solutions for maximum impact.


Advance collaboration. MAP believes we're stronger when we work together. So we approach our work very collaboratively, engaging hundreds of organizations (and hundreds of thousands of businesses) to work together for change. MAP is a leader in building coalitions and partnerships within the LGBTQ and democracy movements and across movements, such as the 200+ nonprofits and 500,000 businesses that make up the Open to All coalition. MAP's resources are persuasive, easy to understand and actionable. From

infographics to in-depth analyses

, our policy and communications expertise empowers our partner organizations and advocates with the tools they need so we can work together for change.
Our Theory of Transformation
MAP believes we can help speed equality and opportunity for all through the process summarized in our Theory of Transformation below. We advance conversation, policy change, and collaboration by shifting people's thinking and driving action through our rigorous research and strong partnerships.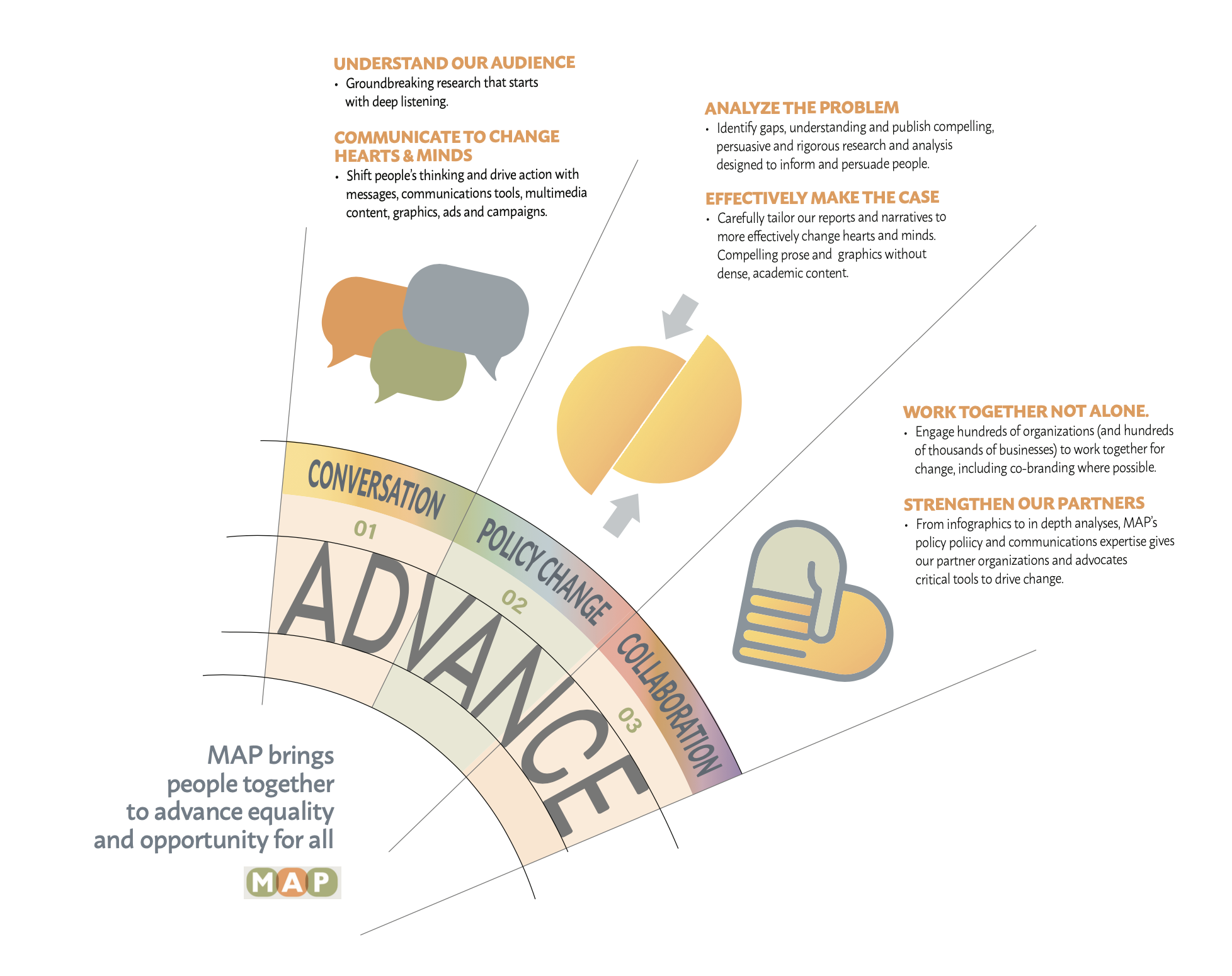 Our transformative and rigorous research and communications help people more easily understand the critical issues we face. Our work is laser focused on changing hearts and minds.
At a time of deep divisions, our work builds bridges across difference to advance equity and opportunity for all
. We power progressive movements.